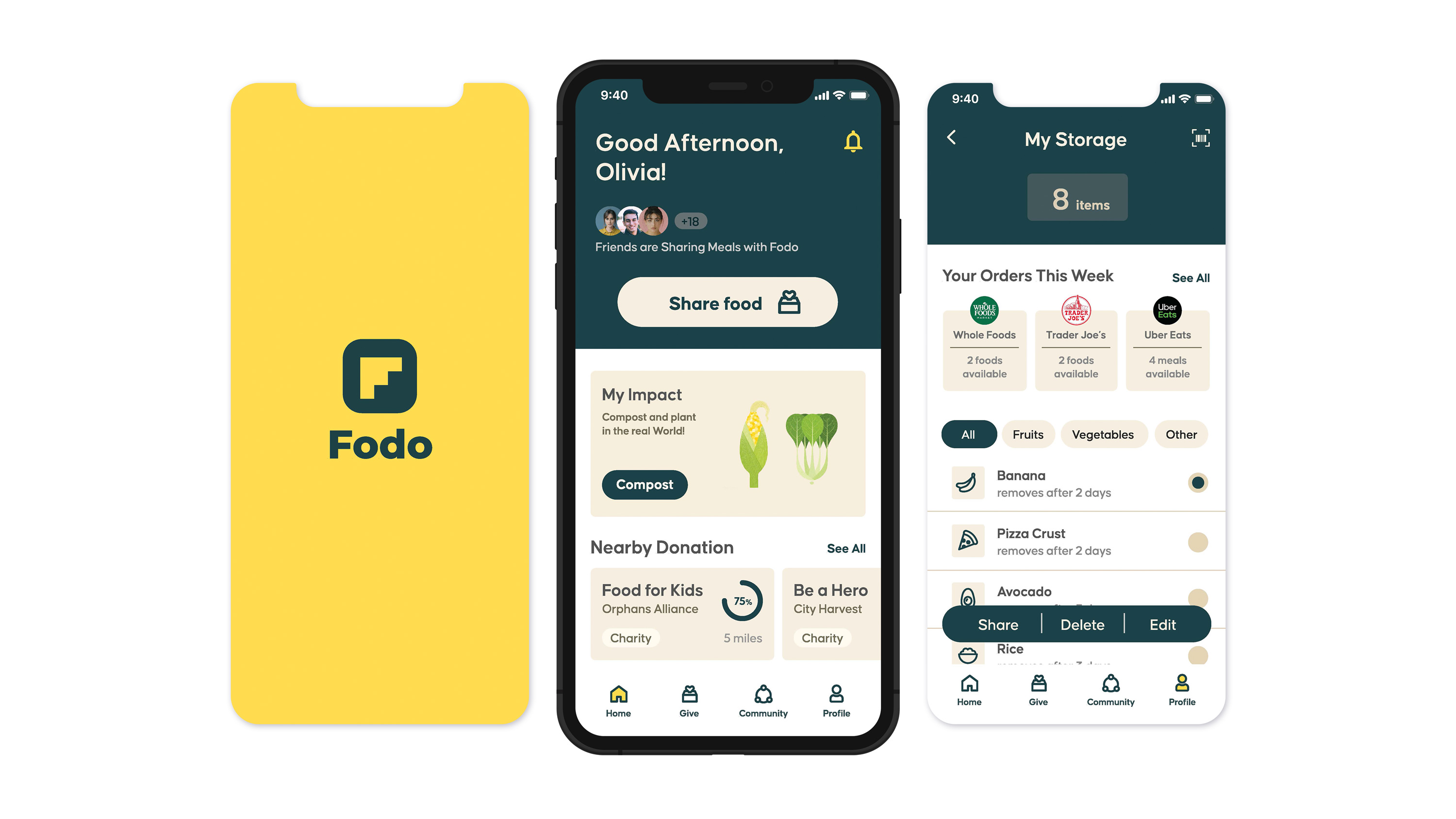 ---
Fodo

UIUX

2022
Fighting against food waste. Globally, we waste about 1.4 billion tons of food every year. In the US, about 40% of all food is wasted.
How might we help a single-person household prevent food waste? FODO is the app that helps a single-person household to order the amount of food they want and donate unwanted foods to the communities.
---
Dining patrons always leave the food behind, and this is a major
contributor to food waste. Is there any way a single-person
household could finish the food that they purchased?


Leftover foods are being buried in a landfill, yet people still experience food insecurity and billions of people die due to starvation. People spend huge budgets on dining out or buying prepared food to go to support the local restaurants.

This overspending on food often becomes food waste. The solution is not to produce less food but to waste less in the process. When purchasing a meal at a restaurant, the portions are generally too much for a single-person household.





"There are so many places where folks don't have enough to eat and we're throwing away perfectly good food." – Eric Oddo"Nearly one-third of all the food produced in the world is never eaten." - UC Davis



How can FODO help them overcome the problems they face?
Goal ︎


Explore and understand the hierarchies that a user perceives to structure contents.



Understand the users' frustrations and needs that can be clearly understood and applied to help users accomplish their goals.



Get feedback for possible solutions to create a better user experience.



Confirm that users can navigate without any confusion or frustrations.
Process ︎


Heard feedback from the interviewees, getting insights on how to improve the user flow.



Showed interviewees the prototypes & wireframes and answered their questions.



Asked questions about what could be changed to create a better experience.


"I generally think this is a good idea. I like the fact that they can donatefood before they eat."


- Joy, Student


"The target audience is small to look for neighbors who want to make compostout of your food."



- Shyam, Software Engineer


"I think that's actually a really cool idea to get food ahead of time so they're getting fresh food at these charities as opposed to leftovers."


- Emily, Student





FEEDBACK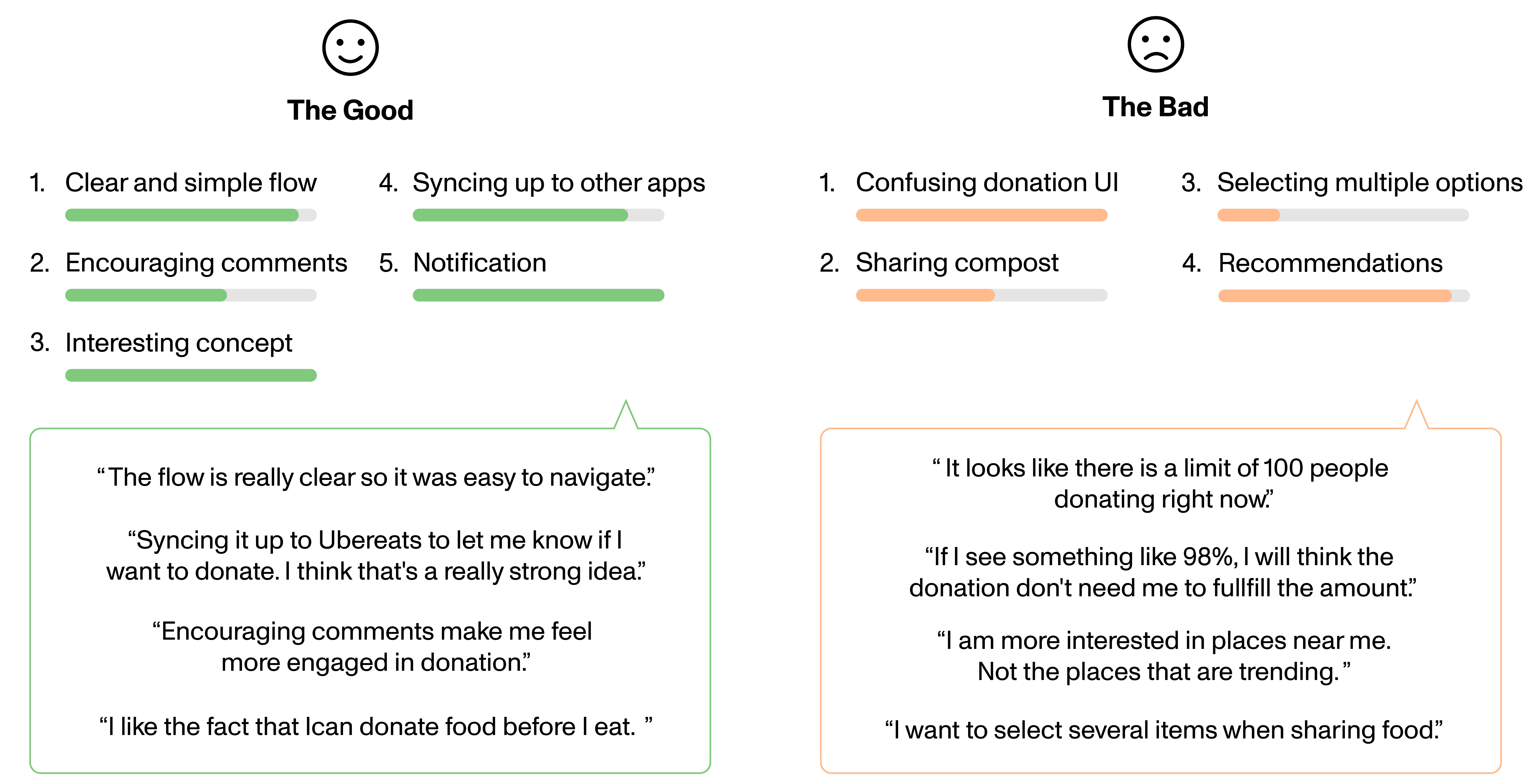 KEY LEARNINGS


REVISED MID FIDELITY WIREFRAME
1. My Impact

I added a new function to the app, in which users could donate food scraps to neighbors. After getting feedback that the target audience would be too small, I decided to incentivize users by making it their individual task to donate food scraps. Leftovers that users have shared will be planted as a real plant. Users can see how much meals they shared and what happens to the compost after sharing. How does users' waste turn into productivity?
2. Home Screen

More users are engaged in clicking the simple and clear button. Since Fodo's main goal is to donate the purchased food, I felt that sharing food button should be more prominent. Joining donation sections were catching users' eye more than sharing food buttons so I combined restaurant and grocery button.
3. Selecting Option

Users prefer easier and faster way when using an app. Added a screen where users can select multiple options when making donation for the purchased foods.
COMPETITOR ANALYSIS
Vision


Reduce the food waste and end the hunger by individuals' responsibility;
bringing the world together.
Mission


To reduce the food waste by encouraging individuals' participation.
Encouraging

Inspire individuals and make them feel they are involved in impacting the world.
Friendly

Welcoming the users, empathising, and congratulating the users' achievements.
Passionate

Passionate about changing and affecting the world.
Simplicity

We keep the visuals clean and straightforward with well-thought interfaces that it is easy to recognize and navigate.
Empathy

We understand users and their motivations. We create an emotional relationship with the users to stay connected.
Innovative

We believe anyone's impact can make a difference. Exciting and innovative visuals are needed to make users engaged.
* Design system not having limit of use for men and women of all ages.


I used Causten for hero text, headings, and body text. It is a geometric san-serif font family, having the balance maintained in each form. It help convey clean, neat, and modern look with easy accessibility that goes well with FODO.

Icons are fundamental part in UI design. I made my icons to be consistent at size 24 x 24 with round edge.
1. Sharing Unwanted Food
2. Composting Leftovers
3. Giving (Donating Food)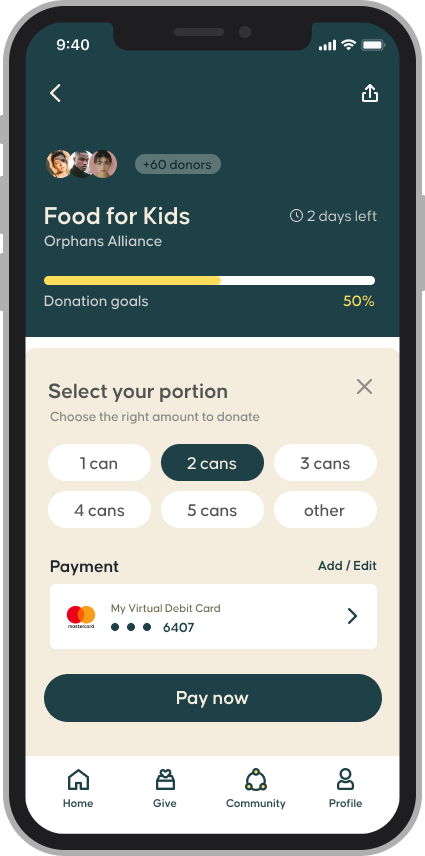 1. Take out community feature and focus on solving the problem, which is to donate foods.
2. Users' needs might be different from what I thought would be helpful for them.
I learned that what I thought might be different from what the users really need.
If I had more time to develop the project, I would focus only on sharing the food part since too many functions can make the product obscure.